There's nothing more exciting than lying on the beach and basking under the splendid sun while hearing the waves crash. Summers are one of the most-awaited seasons of the year simply because it's time to head over to the beach—and every beach trip is incomplete without an exciting volleyball game. Beach volleyball isn't just America's fav beach game but also a highly beneficial sport.
Don't believe us? Here are some top benefits of beach volleyball.
Beach Volleyball Improves Metabolic Rate
One of the most undeniable benefits of beach volleyball is it speeds up your metabolic rate. Every individual has a different metabolic rate and is responsible for converting food into energy to keep our bodies energized.
A quick metabolism will ensure your body burns all the calories quickly while reenergizing you. An effective way to boost your metabolism is through regular exercise. When you play a sport like beach volleyball, you can easily get your daily dose of exercise needed to accelerate your metabolism.
According to Harvard Medical School, an hour-long game of beach volleyball can burn up to 480 calories.
It Will Tone Your Body
Ready to get that beach body? Well, you'll need to play some volleyball for that. Even on the sand, volleyball entails extensive shoulder and arm movement, plus it will keep you on your toes throughout the game. As a result, playing beach volleyball can easily tone your upper body, including the shoulders, arms, and lower body.
Apart from toning your body, beach volleyball also strengthens your body, improving your cardiovascular and overall health. A healthy game of beach volleyball can speed up your heart rate, circulating more nutrients and blood to cells, boosting your overall health.
Beach Volleyball Can Improve Balance, Agility, and Coordination
Volleyball places a high demand on a player's physical ability as players are required to quickly change their direction and positions. Players need to serve, pass, attack, set, dig and block the ball throughout the game.
To be played well, this sport necessitate flexibility, good balance, upper and lower body strength, and speed. Luckily, regular beach volleyball will help you improve all of these, ultimately offering your valuable skills for life.
Increases Aerobic Ability
According to the Aerobic Mile Chart from Well Source, 20 minutes of slow-paced volleyball expends the same amount of energy as one mile of jogging. Playing a rigorous 12-minute game of beach volleyball expends the same amount of energy as walking a mile. As a result, you can improve your aerobic capacity with beach volleyball.
It Can Help Build Muscular Strength
Whether you're playing regular volleyball or beach volleyball, you need to have strong core muscles to play the game. When you pass, you imitate a squat and produce strength using your legs. Moreover, you need to use your arms, thighs, legs, and hands to set. Similarly, every move in a volleyball game requires strength and muscle movement.
If you want to build muscle strength but don't want to engage in strenuous workouts, we have the perfect solution for you—beach volleyball. As mentioned above, a beach volleyball game will work all your muscles out, eventually strengthening them.
Improves Stamina
Does a little bit of exercise have you heaving uncontrollably? Do you get tired very quickly? You need to improve your stamina. For a healthy body and mind, stamina is critical. As important as this is, most individuals dread working out. However, by playing beach volleyball, you can build stamina while having a blast.
Beach Volleyball Can Improve Mental Health
Did you know that more than 50% of Americans are diagnosed with some mental illness at some point in their lives? You'll be alarmed to learn most of these illnesses begin with regular anxiety, stress, etc. Therefore, individuals need to blow some steam off and engage in rejuvenating activities regularly.
If you're looking for ways to blow some steam off, head over to the beach with your loved ones and play some volleyball. As surprising as it sounds, beach volleyball can improve your mental health since it triggers the release of endorphins, reducing stress.
Moreover, playing volleyball on the beach under the beautiful sun can uplift your mood.
Buy Outdoor Volleyball Nets At Cobra Net Systems Today!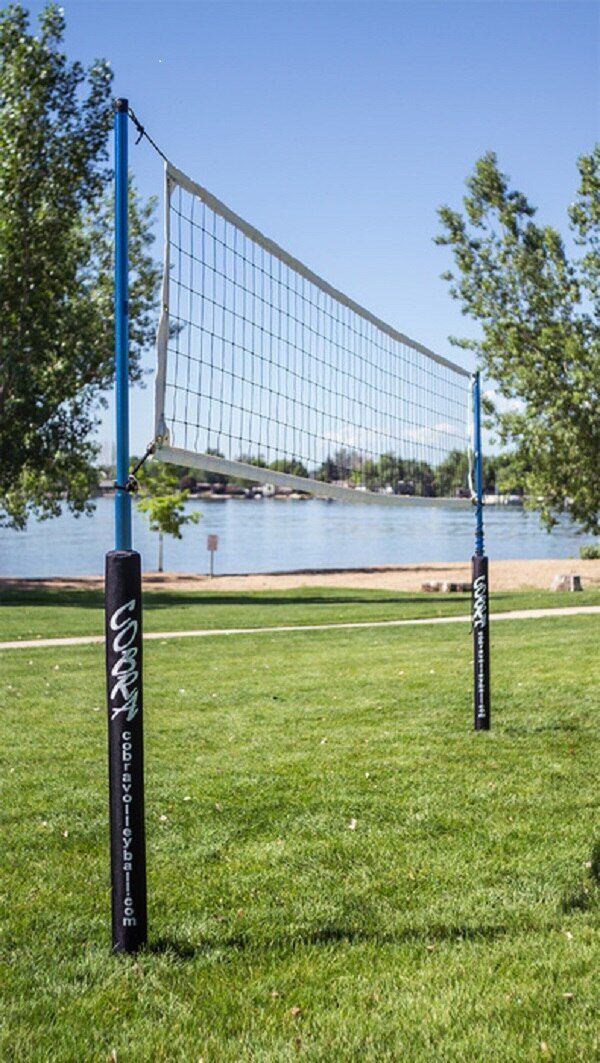 Are you ready to play beach volleyball and are looking for volleyball net systems? Look no further than the best online store—Cobra Net Systems.
Cobra Net Systems is a trustworthy online store offering long-lasting indoor and outdoor volleyball net systems. Unlike other volleyball nets systems, their nets are safe and non-hazardous. Their volleyball nets aren't made up of hazardous guy wires/ropes, spikes, or ground plates. Plus, they come with a lifetime warranty.
The store also offers other sports equipment and accessories for volleyball, tennis, badminton, etc.
Get in touch with them today to buy outdoor volleyball nets or explore their other products.